I enjoy working with a client to design and craft a custom work of art. As a signature design element in custom panels, I incorporate a parabola using a line-type clear glass if possible.
The design process is a five (5) step procedure. The time to produce the work varies considerably, depending on size, design complexity, and my work schedule.
The first step is to discuss with the client, his/her inspiration for the glass piece, the purpose, the density of the composition either a very open design or one that is more complex.
Next, where will the artwork hang, the ideal size, transparency vs. opaqueness, and preferred colors.
I, then, develop one or more full-size designs (cartoons) based on client specifications. If needed, changes are made to the cartoon.
Glass samples and colors are selected by the client and all specifications are finalized.
The final step is to craft the artwork.
Below, are some of my recent commissions…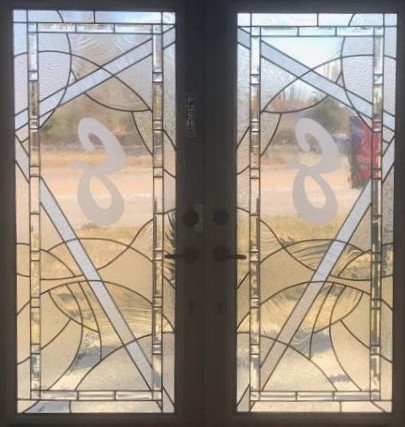 Front French Doors
Two French doors grace the entrance to Salon 21. The design incorporates elements from the business marquee and is a combination of translucent textured and etched glass. The first view is from the inside looking out. The second view is from the outside. (OUTSIDE VIEW COMING)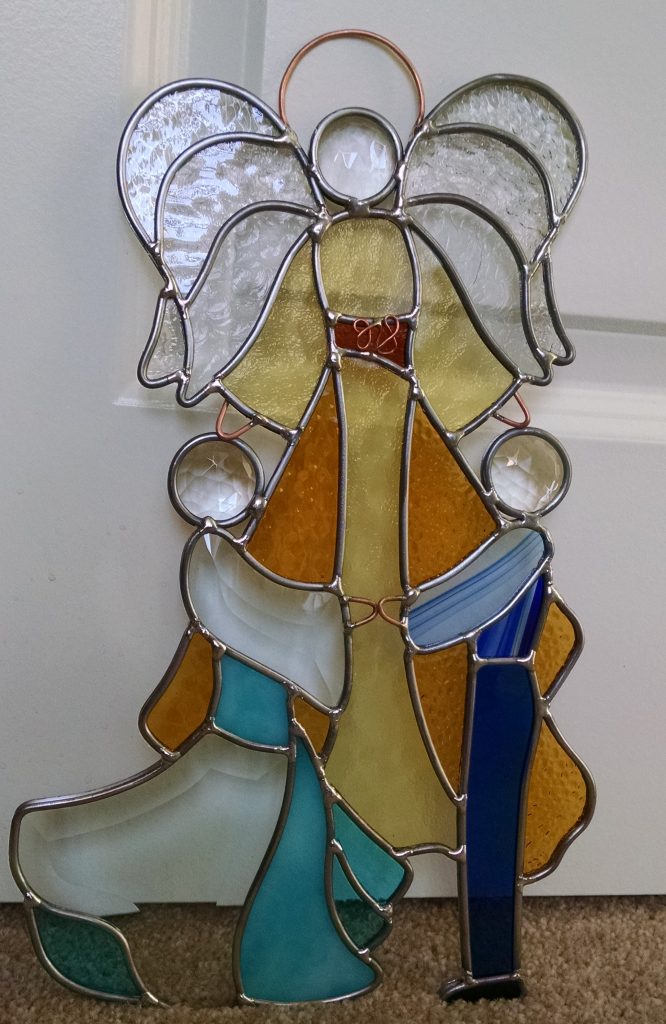 Ever Watchful and Loving
After purchasing several Song Angels, a custom design was commissioned for two special people in love and in the care of a Guardian Angel.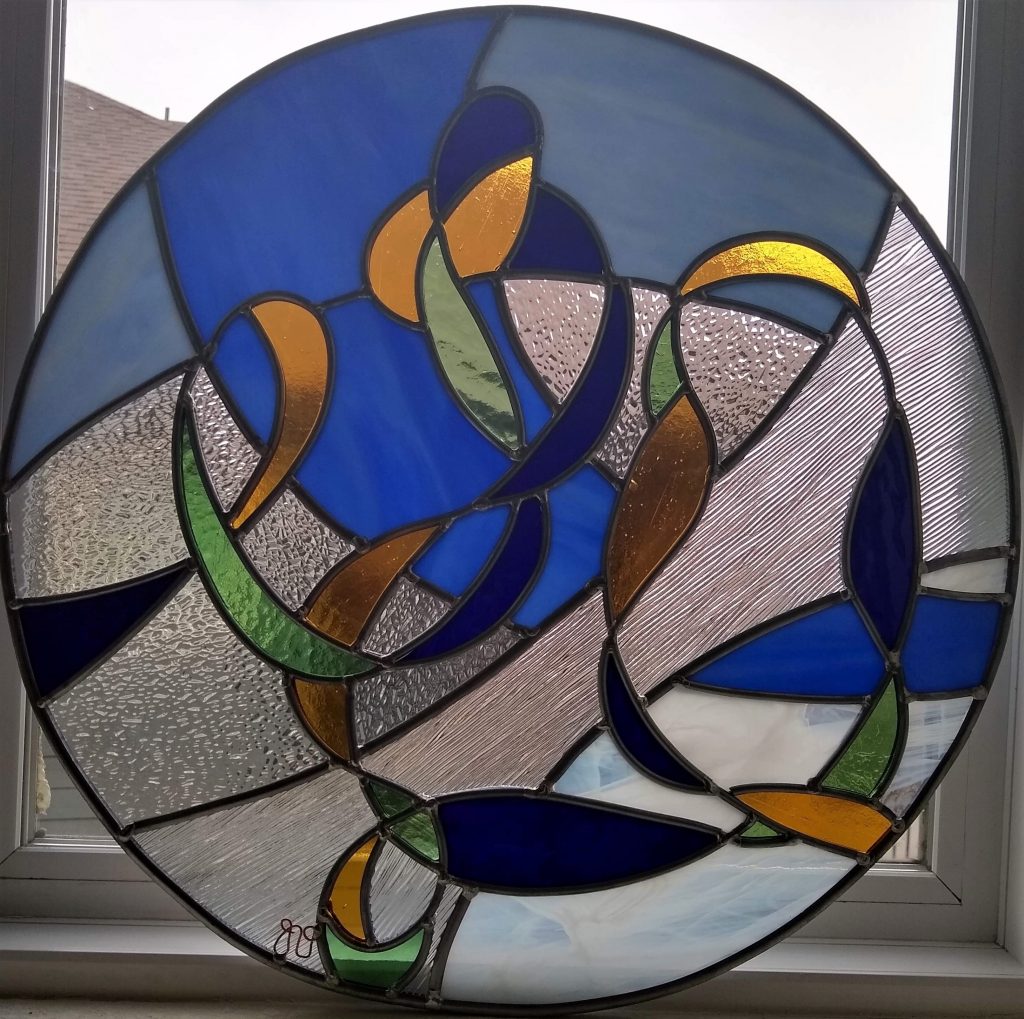 Swirls
This round panel was commissioned to allow light in but to blur images from the outside.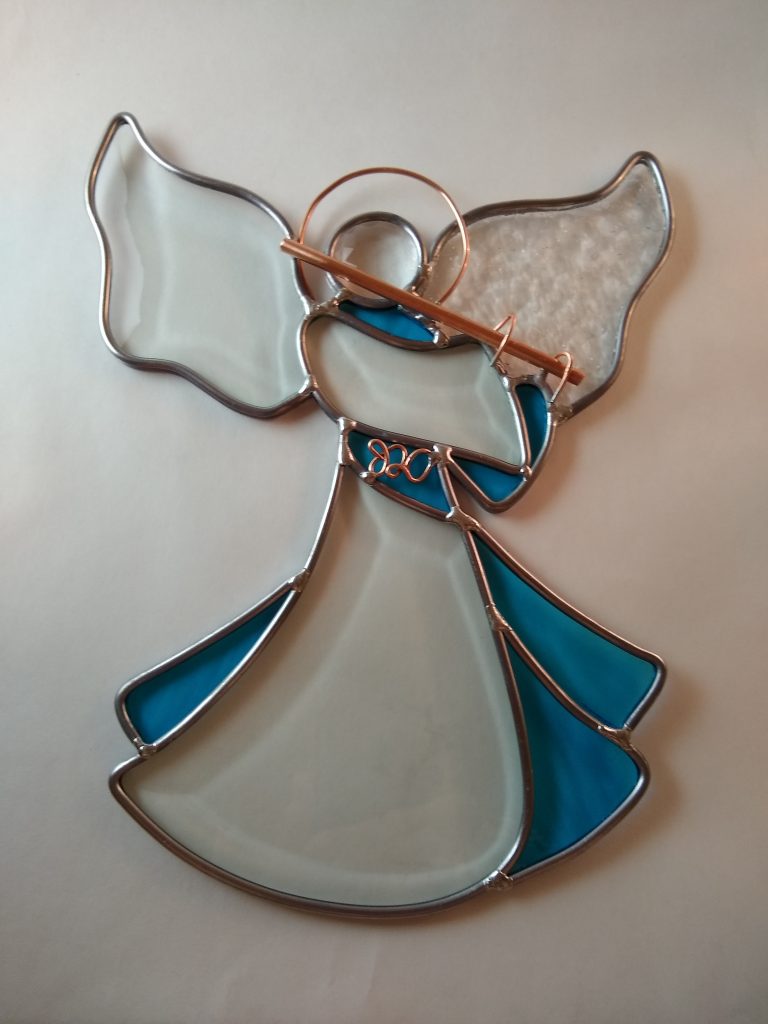 Magic Flute Angel
Magic is always a part of a wonderful marriage inspiring this Anniversary gift.

Sidelight
For privacy, light, and a coordinated interior design statement next to the front door, this commission presented quite a challenge.
A person looking through the sidelight from the outside could see through the kitchen, dining room, and living room resulting in no privacy. In addition, the front door opened into a narrow entry with limited light. Thus, the dilemma was to craft a sidelight that prevented seeing into the home while allowing as much light as possible.
The solution was to use transparent, heavily textured glass. This allowed for light to penetrate but with no clear images of the interior of the home or its residents.
The large flower design added an interior design element that coordinated with entry pictures and furniture.
Return to About the Artist